Cara Menggunakan Zoom Meeting untuk Peserta
Aplikasi Zoom saat ini sudah lebih dikenal oleh masyarakat umum sejak adanya kebutuhan meeting online selama Work From Home (Kerja Dari Rumah) dan kegiatan training / webinar.
Pengenalan:
Zoom adalah aplikasi online yang digunakan pengguna untuk bisa saling berkolaborasi lewat gambar, video dan suara darimanapun secara lebih mudah. Anda dapat memanfaatkan fitur-fitur pada Zoom ini secara gratis dengan beberapa keterbatasan fitur. Selengkapnya mengenai batasan fitur dan biaya bisa dilihat pada link berikut: https://zoom.us/pricing
Aplikasi Zoom bisa digunakan di HP (mobile application) atau komputer (PC/Laptop). Pada saat melakukan meeting online atau video conference, admin menggunakan 2 cara untuk mengundang para peserta, yaitu:
Memberikan Number Meeting + Password (jika dikehendaki)
Mengirimkan Link room Zoom ke peserta
Cara Download Zoom di HP (Android)
Download atau unduh aplikasi Zoom Cloud Meetings di Play Store / Apple Store.
Buatlah akun (account) dengan cara Sign Up menggunakan email anda. Sebaiknya password di Zoom account berbeda dengan password email anda.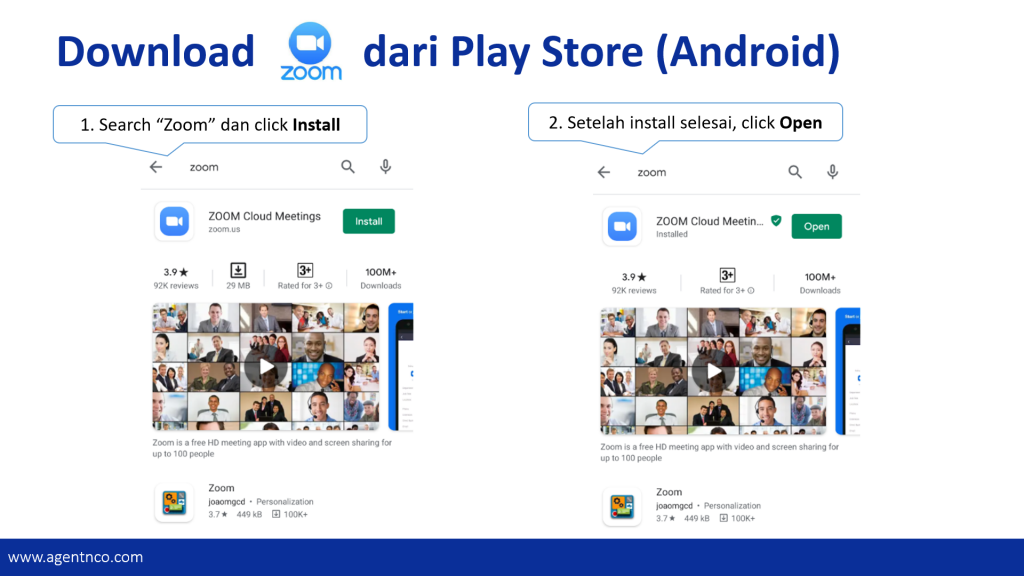 Cara Download atau Menggunakan Zoom dari komputer (PC/Laptop)
Masuk ke Browser (misalnya Chrome)
Buatlah akun (account) dengan click menu Sign Up, It's Free di pojok kanan atas, ikuti proses registrasi yang diminta.
Sign In menggunakan email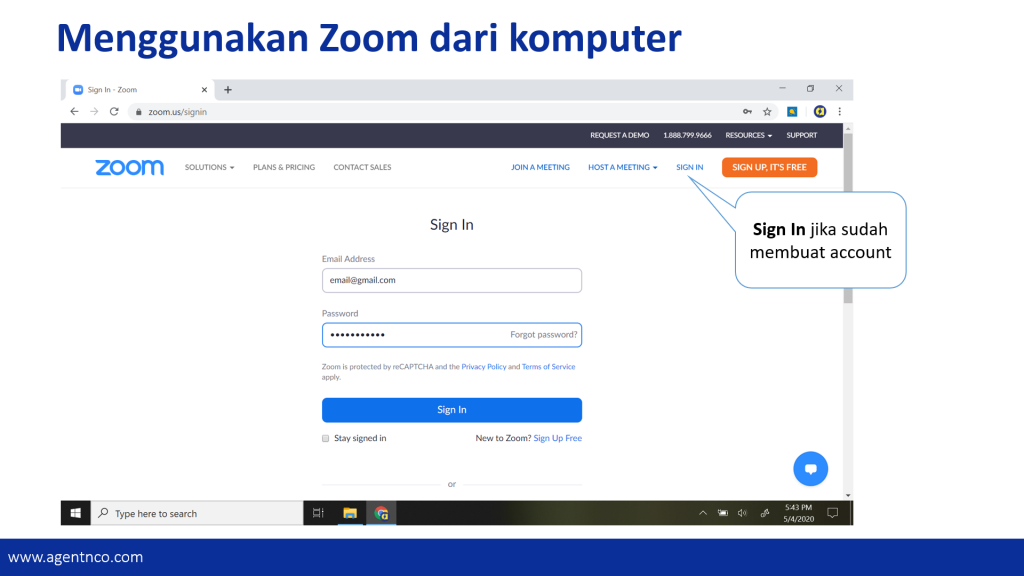 Join Zoom Meeting Sebagai Peserta (dari HP)
1. Buka aplikasi Zoom di HP dan Sign In.
2. Click Join, Isi Meeting ID, Nama Lengkap dan Password
3. Pilih Join with Video atau Join without Video dan tunggu pengundang membolehkan anda masuk ke Zoom Meeting.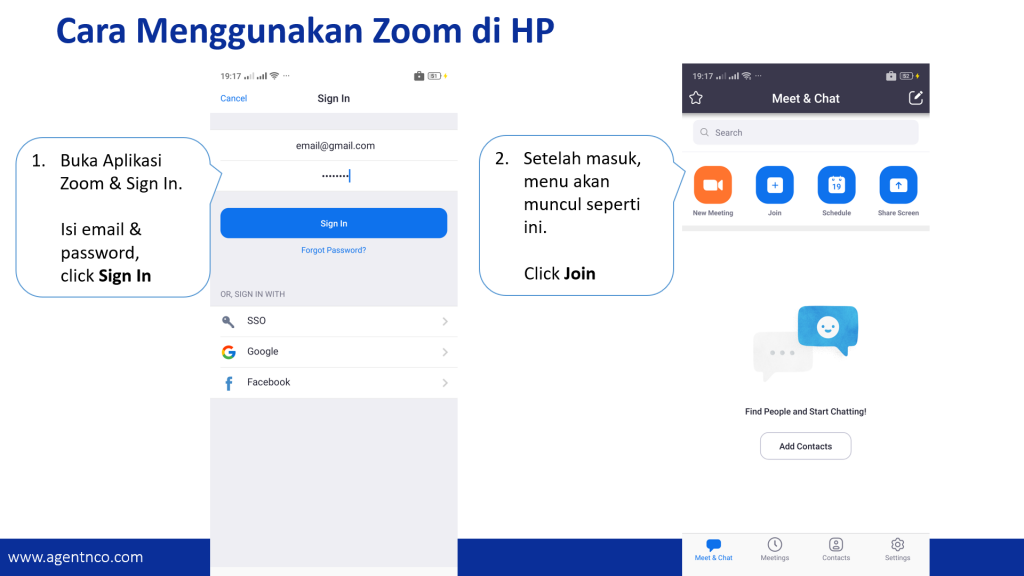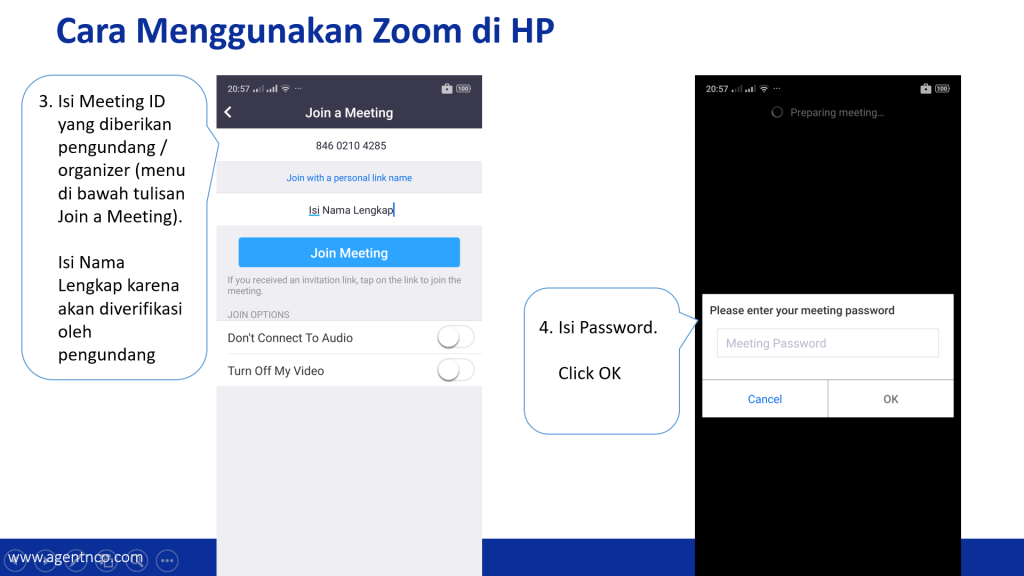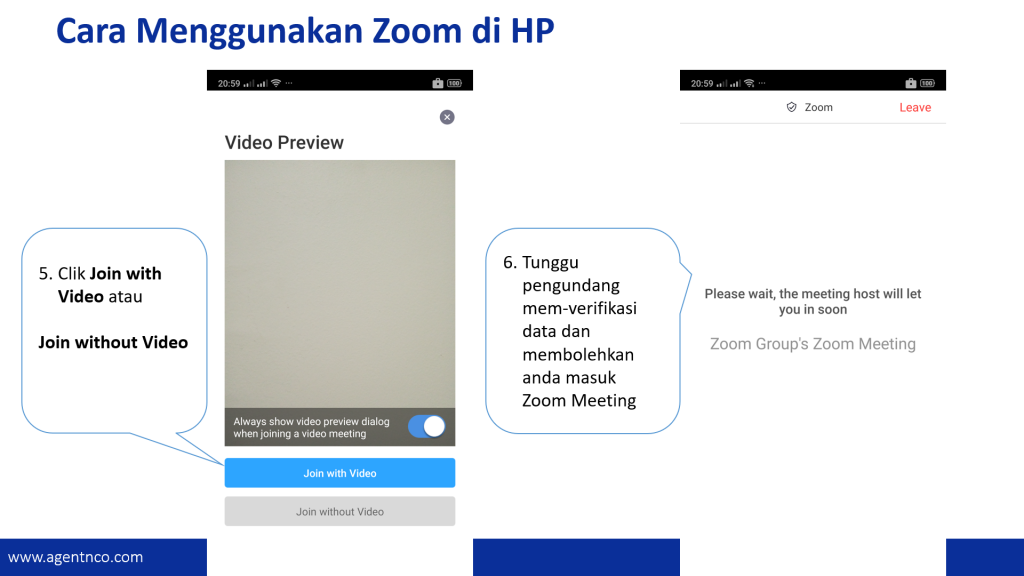 4. Selanjutnya Click Call via Device Audio. Fitur ini diperlukan agar suara terdengar. Pastikan Audio dalam keadaan Mute atau tidak aktif (icon microphone akan berwarna merah). Untuk Video anda bisa mematikan kamera, tandanya icon kamera akan berwarna merah agar penggunaan internet lebih rendah dan aktifkan jika diminta.
5. Selama Meeting anda bisa memberikan komentar atau pertanyaan melalui Chat. Click menu More –> pilih Chat, ketik Chat seperti biasa dan click Send.
6. Leave Meeting ketika ingin mengakhiri Zoom Meeting.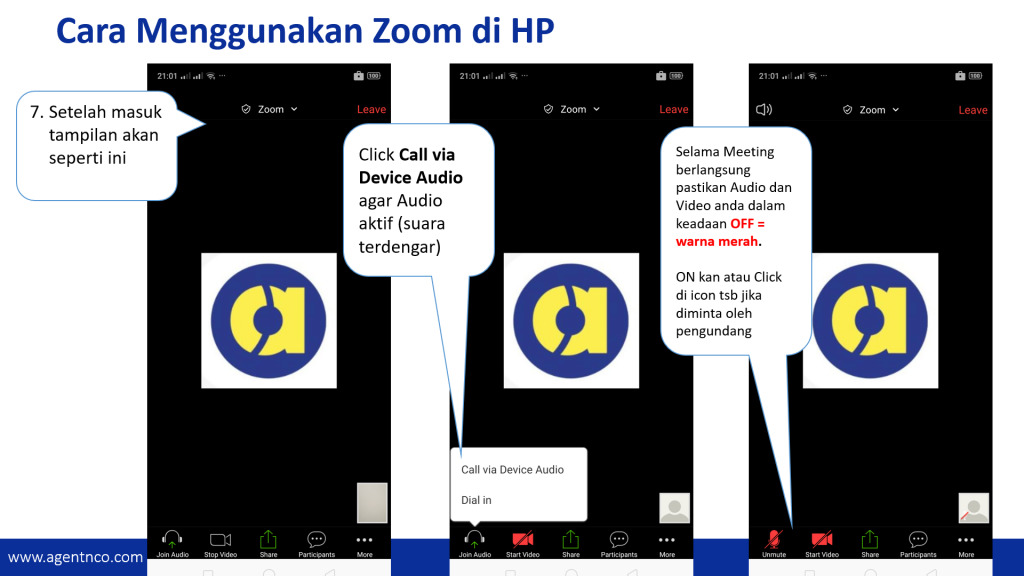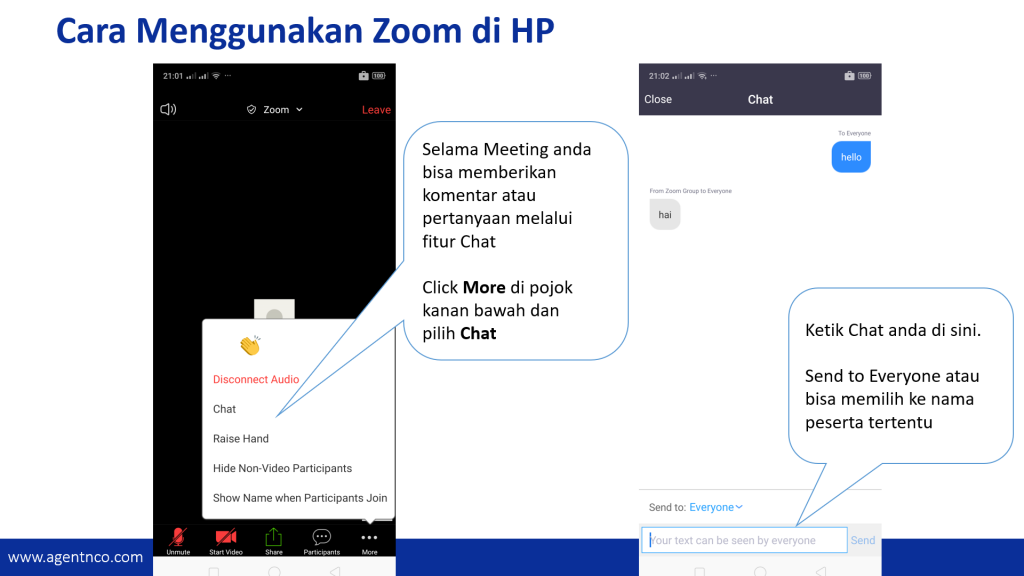 Bagaimana jika ada tidak mendengar suara host? Click Leave meeting dan ulangi kembali proses Join Meeting. Pastikan anda memilih Call via Device Audio.
Join Zoom Meeting Sebagai Peserta (dari komputer)
Pada prinsipnya penggunaan Zoom dari komputer sama dengan di HP.
Jika di HP ada opsi "Call via Device Audio" maka di komputer akan muncul opsi "Join with Computer Audio"
Tips mengikuti Meeting Online
Pastikan anda sudah terbiasa menggunakan fitur Zoom atau aplikasi meeting online lainnya (Google Meet, Skype, dll).
Join meeting 10 menit sebelum di mulai.
Demi kelancaran meeting, set Mute Audio anda dan nyalakan jika sudah diperbolehkan oleh Host (moderator). Untuk online learning atau webinar biasanya hanya Host atau Fasilitator yang akan berbicara sedangkan peserta akan menggunakan Chat untuk sesi tanya jawab.
Kadang kita tidak sengaja mengaktifkan fitur Video, sehingga lebih baik anda berpakaian sopan dan pastikan latar belakang layar anda tidak memperlihatkan gambar / ruangan pribadi yang tidak ingin terlihat oleh peserta lain.
Tergantung berapa lama durasi meeting, anda perlu menyiapkan akses internet yang cukup (perkiraan 2 GB selama 1 jam) dan alternatif moda internet lain jika salah satu ada kendala. Untuk menghemat non-aktifkan fitur Video saat online meeting / webinar.
Follow instagram Agent&Co @agentnco untuk mendapatkan informasi terkini dan kegiatan lainnya termasuk Free Webinar. Sampai berjumpa di kegiatan kami.
/ekab